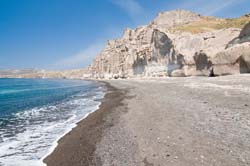 The beaches of Santorini are of
unique beauty
. Out of the ordinary "tropical style", the island has to offer unique places to swim.
The landscape
will no doubt amaze you. Beaches where the sand is black, red, or white, the sun is hot, and the sea is deep blue and crystal clear. Water sports are also available in the majority of them.
An array of water sports is available at Perissa (water skiing, windsurfing and paddle boats), one of the most popular beaches on the island. The unique black lava sand and clear deep blue sea are the main attraction. Seafront taverns, hotels, camping facilities and trees for shade add to the attraction. The beach is located at the southeaster tip of Santorini.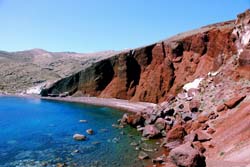 The Red Beach
Not far from the ancient sites at Akrotiri, is the red beach with the same name. You couldn't ask for a more breathtaking setting for a swim. Soaring red lava cliffs which drop right to the black sandy shore and into the clear blue sea make for a majestic setting and one to enjoy.
Meals and snacks can be found at a nearby hotel and if you like excursions, boats leave from Akrotiri to other beaches further down the southwest coast.
Kamari Beach
The beautiful black sandy beach of Kamari stretches for five miles in length along the eastern coast of the island. You don't have to walk far to find taverns on the seafront as well as restaurants, hotels, tourist shops and entertainment spots.
A number of water sports are also available like water skiing, windsurfing and paddleboats. From Fira you can take the bus to Kamari with frequent service.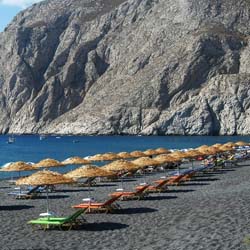 Vlihada Beach
- In the Perivolos area, this beach also offers a perfect spot for those wishing to avoid the big crowds.
Monolithos Beach
- Just north of kamari and on the eastern coast is the beach of Monolithos. Here you will find more peace and quiet than other Santorini beaches, however with all the comforts of the other beaches as there are bungalows facilities for snacks and meals available.
Oia - Ammoudi and Armeni
are two beautiful beaches, which are frequented by visitors to Oia, that fascinating town built on the edge of a cliff. Ammoudi is situated directly below Oia, on the northwest tip of the island while Armeni is little further on.
Perivolos Beach
- Another of the quiet variety beaches on the island with small taverns and rooms to let opposite the beach. It is located on the southern tip of the island. Sport facilities are available also.