Vacation and accommodation in Greece
is a
complete Travel Guide
for Greece. In Vacation-Greece you will find information on
Greek islands
and a list of hotels and villas in Saronic, studios and apartments
for all budgets
. Find hotel offers in Saronic, see maps and photos of Saronic, book flights, ferry tickets,
discover Saronic
, book
guided tours
and make hotel reservations.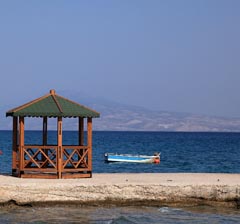 Salamina lies In the small bay opposite Piraeus, Elefsina and Megara.
The heavy industry in the area has blighted the natural beauty of the island., but its name still evokes its Illustrious past. Salamis, birthplace of the tragic poet Euripides, made its mark on history with the famous battle In 480 B.C., when the Greeks routed the fleet of Xerxes, consolidaling the Greek miracle.
Today the strait where the battle was fought is piled by the ferries linking Perama and Paloukia.
Pausamas in his guide speaks about Salamis, mentioning the Agora and the ruins of the temple of Aiakos and the related mysteries. He also refers to the Sanctuaries of Asclepius, Dionysus and Artemis.
Echoes of the Byzantine era are also present, in the convent of the Virgin Faneromeni and the remarkable frescoes in its church.
Today's lounsts will also enjoy the sandy beaches of Iliakti, Moulki, Kanakia and Peristeria.