Vacation and accommodation in Greece
is a
complete Travel Guide
for Greece. In Vacation-Greece you will find information on
Greek islands
and a list of hotels and villas in Epirus, studios and apartments
for all budgets
. Find hotel offers in Epirus, see maps and photos of Epirus, book flights, ferry tickets,
discover Epirus
, book
guided tours
and make hotel reservations.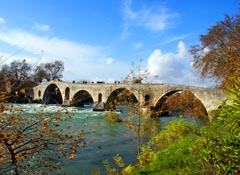 Arta covers an area of some 1,700 square km and has a population of 80.000 residents approximately. It has an impressive terrain of imposing mountains, smooth valleys, waterfalls and rivers, sea lakes and fertile orchards. Combing admirably the serene nature, the long history and modern tourist amenities, It is an ideal destination for enjoying peacefulness, exploration, sports or entertainment.
Surrounded by a green scenery, its homonymous capital, Arta, built upon the ruins of the ancient city of Amvrakia, was the capital of the once Despotate of Epirus. Today, it is a modern city of wide streets, idyllic squares and with evident the traces its cultural heritage. Wonderful byzantine churches with most famed the one of Panagia Parigoritria and the one of Agias Theodoras; the 13th- century Byzantine Castle that was built on the ruins of the ancient Amvrakia's walls and the remnants of Temple of the Pythios Apollo are only some of them.
Yet, the trademark of Arta is undeniably its stone-bridge famed for its architectural structure.
Arta offers several accommodation facilities and entertainment options.
Most of its mountainous villages such as Vourgareli, Theodoriana, and Mesounta (Mesounda), Katarraktis and Peta are located amidst wonderful green landscapes and forested hillsides, surrounded by running waters and under the shadow of imposing mountains. Their natural beauty, the vivid tradition and their monuments attract each year many visitors.
how to get there
Arta is connected by bus with Athens and Thessaloniki.