Koufonissia islands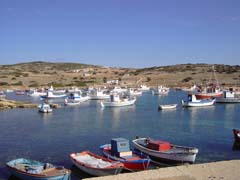 Information about Koufonissia
general information
Koufonissia group of 2 islands, Pano and Kato Koufonissi
Area: Pano Koufonissi is 3.5 square km, Kato Koufonissi is 4.3 square km
Distance from Piraeus is 125 nautical miles
Inhabitants approximately 370 (in Pano Koufonissi)
Connection with Athens via the port of Piraeus
Connection with Ios, Syros, Paros, Naxos, Donoussa, Schinousssa and Amorgos

At the southeast of Naxos and within a short distance from Naxos' southernmost coastline, lie Koufonissia, a small group of 2 islands of unparallel beauty and
characteristic Cycladic landscape
.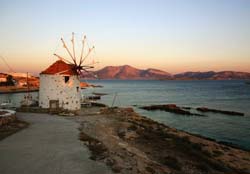 The two islands,
Pano Koufonissi
and
Kato Koufonissi
lie next to each other and are separated by a narrow channel of about 200m.
Kato Koufonissi (at the southwest of Pano Koufonissi), is nowadays uninhabitted, except for some small farm cottages whose owners stay there mainly during summer in order to guard their stock. This uninhabitted island is an attraction pole to sailing boat and yacht owners during summer.
Both islands are famous for their
exotic beaches
and gather many fans each year, especially during July and August whe they become particularly crowded.
Best time to visit
is during the low and middle seasons, from middle May till the end of June and from middle September till the first days of October.