What does the term "Holiday Apartment" really mean in Greece?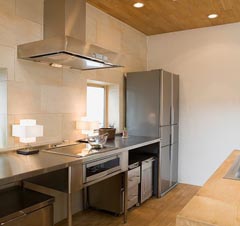 Instead of hotel rooms,
holiday apartments
have become quite popular in
Greece
in the last decade due to the extra space and privacy they usually offer in comparison to other forms of holiday accommodation.
In Greece, a holiday apartment describes a unit which has at least one bedroom that is separate from all other rooms, a full
kitchen or a kitchenette
module, a private bathroom which may have a bathtub or shower cabin and a living room that sometimes is an extension of the kitchen area which may be open or enclosed.
When talking about a kitchen it means that it has at least hotplates, an oven, a refrigerator with a deep freezing section, a single full sized sink or double sink, coffee percolator and a kettle with a set of crockery and cutlery and of course a set of cooking utensils for preparing snacks and full meals.
A kitchenette on the other hand signifies a module that usually has two hotplates, a mini refrigerator with a deep freezing shelf, a small sink, a basic set of crockery and cutlery and basic cooking utensils for preparing snacks and small meals.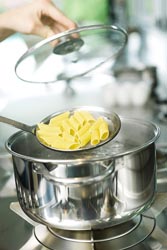 Studios
are the most economic way to go if you are working on a tighter budget and don't mind having another person using a couch bed in the room usually a child. A studio describes an open plan room with beds, some living room furniture (two couches and a table) a kitchenette and a separate room with shower cabin, sink and w.c. that may also be a bathroom capsule (a room that is itself an open shower cabin with sink and w.c.).
Two room apartments
(with one room being a bedroom) are ideal for families of up to 4 or 5 members with young children which can be comfortably accommodated on couch-beds in the living room. The larger Holiday apartments which usually have more than one bedroom also afford the opportunity to be rented by more than one couple.
The trend of renting an
apartment in Greece
also proves to be quite an economic choice in other respects as well. For example, tenants are able to save a sizeable amount of money by preparing their own meals. This is the main reason families tend to rent holiday apartments rather than rooms that have no kitchen facilities. Sometimes an apartment can also be described as a "Self catering holiday apartment" which simply indicates that the apartment has a kitchen or kitchenette module.
Multiple room holiday apartments
cover a range of self catering holiday apartments that have three or more rooms. Starting from the aforementioned simple holiday apartment described above with one bedroom, to multiple bedroom apartments that have two or for the larger more luxury apartments three large bedrooms or more. This category also has a full living room, quite possibly a full sized dining room, open or enclosed kitchen with a full range of kitchen appliances crockery and cutlery sets as well as all necessary cooking utensils for preparing snacks and small meals.
When looking to rent one or more
holiday apartments or studios
of any kind it is strongly advised that you carefully read and comprehend exactly what it is that is being offered since the terminology for what could be taken for granted in one's own country usually varies considerably compared to what may be used in a hosting country. This practice saves an eager vacationer from much disappointment and aggravation that may arise from visiting a different country since each has its own description for what they are offering.