Vacation and accommodation in Greece
is a
complete Travel Guide
for Greece. In Vacation-Greece you will find information on
Greek islands
and a list of hotels and villas in Saronic, studios and apartments
for all budgets
. Find hotel offers in Saronic, see maps and photos of Saronic, book flights, ferry tickets,
discover Saronic
, book
guided tours
and make hotel reservations.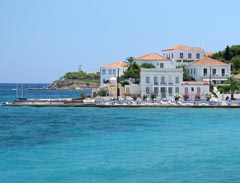 Spetses, at the entrance to the Bay of Argos, was first settled in the Early Helladic era (3500- 2000 B.C.), as certified by the remains of walls, statuettes and clay vessels found at Agia Marina.
In antiquity the island was known as Pityoussa, perhaps because it was covered with pine trees. Today, it stands out for the distinctive architecture of its stately mansions and coves, some sandy, some rocky, many still rimrned with pines.
Cars are infrequent on the island. Most of the inhabitants prefer to get around on bicycles and horse-drawn carriages, which lend a special charm to the place.
Sights worth seeing on Spetses are the house of Bouboulina, the Revolutionary heroine; the Mexis house, now a museum and the church of Agia Triada will its carved iconostasis.
Among the most popular beaches on the island are Agii Anargyri and Agia Paraskevi.