The oblong shape of the mountainous and barren island of Amorgos lies on the eastern edge of the Cyclades, almost in the Dodecanese. In some places, the coastline is steep and rocky, while elsewhere it forms quite, shady bays.
The ruins to be found all over the island and the important archaeological finds discovered there (some of which are in the National Archaeological Museum, Athens) are testimony to the fact that Amorgos was inhabited in prehistoric times and was a place of great importance during the period of the Cycladic civilisation.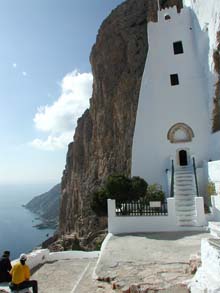 During ancient times, there were three flourishing and independent cities on Amorgos: Minoa, Arkessini and Aegiali. At
Katapola (the island's capital)
, the main harbour of the island today and the location of the interesting church of Our Lady "Katapoliani" (built on the site of a temple of Apollo), traces of ancient Minoa have come to light.
Swimmers will be delighted by the superb beaches to be found in the vicinity. The whitewashed houses of the capital of the island, Hora or Amorgos, spread out beneath the Venetian castle which stands on the pick of the hill. Besides, it was this impressive contrast between the sharp rocks and the deep blue of its waters that captivated the Luc Besson, the director of the movie "Deep Blue" and selected Amorgos for shooting the movie.
The typical Cycladic architectural style of the double or 'twin' church is much of evidence here. The Archaeological Museum has finds from all over the island and is well worth a visit. To the north-east of Hora, at the foot of the rock, is the Byzantine monastery of Our Lady 'Hozoviotissa', one of the most important monuments of its kind.
The second port of Amorgos, Aegiali, is a pretty village famed for its superb sandy beaches and consisting of three distinct 'quarters'. It is easier to reach Egiali by sea along the poor and steep road linking it to Hora.
In the south of the island, Arkessini stands near the site of the ancient city of the same name, amid a group of picturesque whitewashed hamlets. The road network of Amorgos is nearing completion, and will link up all the villages on the island.
Amorgos
has few hotels and rooms to rent
. Yet despite the limited facilities available for visitors, the fine beaches and particular beauty of the island attract more and more tourists each year.