In Vacation-Greece you will find information on
Greek islands
and a list of hotels and villas in Dodecanese, studios and apartments
for all budgets
. Find hotel offers in Dodecanese, see maps and photos of Dodecanese, book flights, ferry tickets,
discover Dodecanese
, book
guided tours
and make hotel reservations.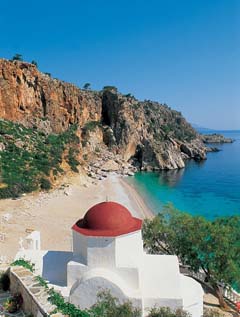 This second largest island of the Dodecanese chain lies between Rhodes and Crete. It is rather rectangular in shape and its terrain is mountainous, the highest peak being Kali Limni at 1,214 metres above sea level. Most of its settlements are to be found on its south coast, which is relatively flat.
Near the north coast is a small island called Saria, with which Karpathos used to be united. On this islet, at the site called Palatia, there are some ruins belonging to the ancient town of Nisyros.
Karpathos' capital and main port is Pigadia or Karpathos on the southeast coast. It was built primarily with funds sent home by immigrants to the United States and it does not reflect the local architectural style found in the older villages.
Southwest of the capital is Menetes, whose history started after the Middle Ages, and Arkassa which has been identified as the site of ancient Arkesia. Here the ruins of a Christian Basilica of 5th/6th c. A.D. can still be seen.
Thirteen kilometres to the northwest, you come to Piles, mountainous Othos to the northeast with its folk art museum, and Volada, a traditional village with houses whose interior decoration is well worth a look.
Further north, near the west coast, is Messohori, where there is a genuine Karpathian house open to the public. Note its characteristic wooden ornamentation and the pebble mosaic floor. Still further north, almost cut off from the rest of the island is its most important village, Olimbos, which is accessible only from Diafani, Karpathos' second port.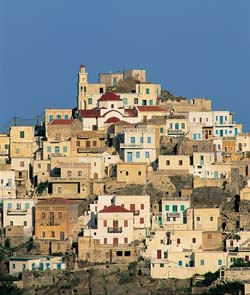 Olimbos sits on a hillside overlooking the Aegean. Founded sometime between the 10th and 15th century, it was originally fortified to afford its residents protection from the pirates. The highest spot in the village used to be crowned with a tower. Even today Olimbos has preserved its local architecture intact, both in the interiors and exteriors of the houses. Its citizens take pride in maintaining their traditions and still speak a dialect which contains several Dorian words and idioms.
Karpathos has many beautiful beaches: Finiki and Amfiarti to the southwest, Makriyialos to the southeast, Agia Irini on the west coast and Agios Nikolaos on the east.
how to get there
By plane with OA from Athens (Elefterios Venizelos Airport of Spata) By ferry from Pireas