Paros, the third largest of the Cyclades islands after Naxos and Andros, has developed into an important centre of tourism in recent years.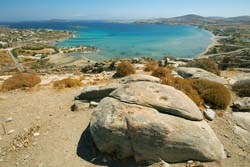 Gently rolling hills surround the centre and south-east of the island, which is predominantly agricultural and is occupied by
endless vineyards
, and lock within themselves the famous Parian marble.
The coastline is indented,
with numerous small inlets and two large bays
, those of Naoussa in the north and Parikia in the west.
Paros has been inhabited since very ancient times and was one of the centres of the Cycladic civilization.
The first traces of habitation of Paros island date back to Stone Age.
During the 3rd millennium B.C. Paros was dominated by the Minoans and later on by the Mycenaeans and both civilizations carved deep traces on the island's history. Paros was developed as a significant commercial and cultural centre and the famous marble of Paros was used in statues of unrivalled beauty such as the Aphrodite of Milos and the Hermes of Praxiteles.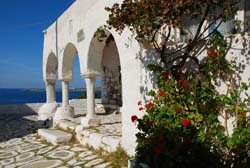 Parikia (or Paros Town)
, the island's capital and main port, stands on the site of an ancient city. There is a picturesque and ruinous Venetian castle, and the courtyards of the houses of the town - all of them painted white - are full of pots of basil and hung with jasmine and honeysuckle.
A broad paved avenue leads to the church of Ekatondapiliani or Katapoliani, one of the most important Byzantine monuments in the whole of Greece and a place that figures largely in legend. It is dedicated to the Dormition of Our Lady, and on her feast day (15 August) there is a great celebration on the sea-front with fireworks and songs of the sea.
Paros gathers thousands of tourists each year, starting from early May. It is famous particularly among young people due to its excellent nightlife, however, Paros can also be considered a family island as it can also offer quiet holidays of great quality.