Vacation and accommodation in Greece
is a
complete Travel Guide
for Greece. In Vacation-Greece you will find information on
Greek islands
and a list of hotels and villas in Dodecanese, studios and apartments
for all budgets
. Find hotel offers in Dodecanese, see maps and photos of Dodecanese, book flights, ferry tickets,
discover Dodecanese
, book
guided tours
and make hotel reservations.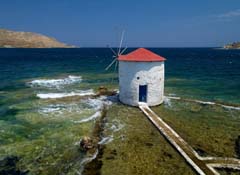 Situated between Patmos and Kalimnos, Leros is an island of small fertile íalleys sandwiched between rolling green hills, deep coves and pretty beaches.
Leros' topography has given rise to many villages. The most important is the capital, Agia Marina - united with two other villages, Platanos and Pandeli, on the back side of the hill - a collection of little white houses, neoclassical buildings and narrow alleyways.
It starts at the seaside and gradually climbs up the sides of the hill, whose summit is dominated by the sombre remains of a Byzantine castle. Of special significance during Byzantine times, its shape is that given it by the Knights of St. John, who arrived in Leros in the 14th century. Still standing today are the circuit wall and the church of Our Lady within it.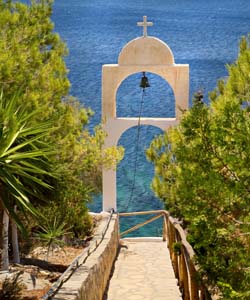 Laki, 3 kilometres south of Agia Marina, is the island's port. It is built at the back of a deep, practically enclosed bay, whose mouth is only 500 metres wide. This is one of the largest and best natural harbours in the Mediterranean.
Alinda, Xirokambos and Partheni are charming seaside villages, while you'll fénd wonderful swimming at the beaches of Agia Marina, Pandeli, Vromolitho, Alinda, Laki, Merikia, and Xirokambos, to name a few.
how to get there
By plane
with OA from Athens (Elefterios Venizelos Airport of Spata)
By ferry
from Pireas