. Andros, the most northerly island in the Cyclades and the second - largest in the group, is also among the most beautiful.
Successive ranges of mountains
with steep sides, separated by gorges, riverbeds and three large valleys planted with olive trees, figs, oranges, lemons and vines through which run numerous streams go to make this a landscape which often goes beyond what we think of as typically "Cycladic".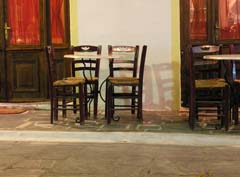 The mountains end as rocky cliffs or steep promontories, while at the mouths of the valleys are
sandy beaches
.
In the south - east is
Andros Town
or Hora, the capital of the island and its second most important harbour.
This is the most attractive town, with neo-classical mansions side- by -side with Cycladic houses, steep and narrow alleys lined with arcades, fine churches and two pretty squares in the centre of a town which will make a lasting impression.
Among the most important monuments of Andros Town are the
castle
, now ruined, and the church of Our Lady "Palatiani" within its walls. On the cultural side, there is an Archaeological Museum with finds from the Geometric, Classical, Hellenistic, Roman and Byzantine periods, a Museum of Modern Art with works by the sculptor Michalis Tombros, and a Nautical Museum with a rich collection of ship models, photographs and ship's instruments.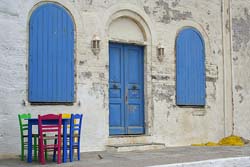 Andros is home to many of Greece's seamen, and interesting cultural events take place there all the year round.
Gavrio is the island's principal harbour, on the west side of Andros. Among the interesting features in the vicinity is the Tower of Agios Petros.
Andros has numerous interesting things to see: the church of the Archangel at Messaria, the monasteries of Zoodohos Pigi at Batsi, of St. Nicolas at Apikia ( which is also the site of the Sariza mineral spring ), of Our Lady "Panahrantou" at Falika, and the Apano Kastro or "Tis grias to Kastro" ( Upper Castle ) to the north of the village of Kohilos.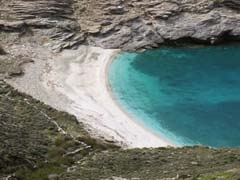 Special mention should be made of the ruins of an ancient city which survived at Paleopoli. At Zagora, to the south of Paleopoli, one of the most important Geometric temples to have been discovered anywhere in Greece has come to light.
There are good swimming beaches at Nimborio, Paraporti, Korthi bay near Batsi, Gavrio,Vitaly and elsewhere.
Andros has good tourist amenities and can easily deal with the steadily increasing numbers of visitors who choose it for its natural beauties, its attractive villages, its historical monuments, its superb beaches and its medicinal springs.
On your right hand image you can see the Venetian Castle built on the 13th century by Marino Dandolo, located on a small island which is connected to the rest of the island by a stone bridge.