This
exceptionally picturesque island
lies close to the south-east coast of Attica. It rises at the point of the sea-current of the Cavo D'oro, bordering the Aegean sea and the South Eboic Gulf (the gulf at the south part of Evya island). The island has 1790 inhabitants. The mountain masses, which are encountered in most of the Cyclades, are broken up by small valleys sparsely planted with
vines and fruit-trees
and run right down to the sea, opening out into pretty little bays. On the western side of the island is Agios Nikolaos bay, and deep within it the port of Korissia, which is considered to be one of the safest natural harbors in the Mediterranean.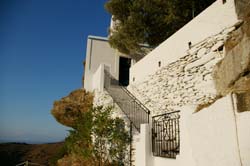 Ferry-boat, at call at Korissia - also known as Livadi - which stands on the site of the city of Korissia, which in ancient times, with Ioulis, Karthea and Poiessa, was one of the island's four independent city- states.
The island's capital, Hora or Ioulida (6 km. from Korissia), has maintained its Cycladic idiom intact.
Built in the shape of an amphitheatre
, it presents the visitor with an impressive vista of two-storey houses and tiled roofs, steep cobbled alleyways and splendid churches with elaborately carved wooden icon screens. At the highest point of the village, on the site of the ancient acropolis, is a quarter known as Kastro which commands a breathtaking view of the nearby islands off the coast of Attica. Not far from here is the famous 'Lion of Kea' (6th century BC), hewn out of the slate.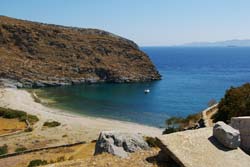 The
Archaeological Museum
in Ioulida contains interesting findings dating from the Cycladic period. The interior of the island is dotted with miniature chapels, windmills and monasteries, including that of Our Lady Kastriani, Kea's patron saint. Easily accessible from Athens, Kea offers those who are seeking a restful holiday clean, not crowded beaches at Pisses, Korissia, Koundouros, Otzia bay and Poles bay; here they can enjoy delicious fresh fish at picturesque little tavernas.
The exact role of Kea in the ancient history is yet to be revealed. However, the traces found there clearly show that the island's background was definitely rich.