Vacation and accommodation in Greece
is a
complete Travel Guide
for Greece. In Vacation-Greece you will find information on
Greek islands
and a list of hotels and villas in Epirus , studios and apartments
for all budgets
. Find hotel offers in Epirus , see maps and photos of Epirus , book flights, ferry tickets,
discover Epirus
, book
guided tours
and make hotel reservations.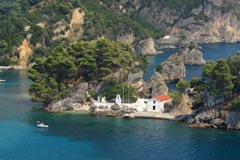 Epirus is located at the north western part of Greece and it consists of the Prefectures of Arta, Ioannina, Thesprotia and Preveza.
In its unique landscape, composed by high ranges such as Smolikas and Pindos (Pindus), dense forests and waterfalls, wonderful rivers, gorges and stunning beaches, a wealth of rare flora and fauna is found. Besides its natural beauty, the region is also a historical place adorned with important archaeological monuments, ancient theatres, remarkable monasteries and byzantine churches;, villages in which tradition is still alive and wonderful cities that offer allamenities that promise a comfortable staying.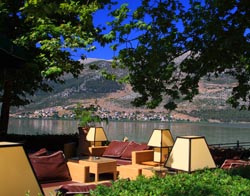 Historical profile:
According to excavations finds, Epirus has been inhabited since the Palaeolithic Age, probably by the Chaones (Haones) and Thesprotians (Thesproti) and the Mollosians, followed by the Corinthians and people from the region that today is called Peloponnese. At that time the famous Oracle of Dodoni (Dodona) was established. The region reached at its peak when the king Pyrros (Pyrrhus) formed a coalition of all tribes.
In the centuries followed Epirus was greatly suffered by Macedonian, Roman and barbarian invasions and only under the Byzantine rule, when the Despotate of Epirus was set up, it became important as a religious and cultural centre.
In 1430 the Ottomans subjugated it, yet the people of Epirus never seemed to have accept it, judging by their several rebellion movements. In 1803 the fierce resistance and the heroic self-sacrifice of the women of Souli, who preferred to threw themselves from the steep cliffs, performing their last dance; the Dance of Zaloggos, was written in Greek history. Epirus was gradually libarated from 1881 to 1912.