Vacation and accommodation in Greece
is a
complete Travel Guide
for Greece. In Vacation-Greece you will find information on
Greek islands
and a list of hotels and villas in Macedonia, studios and apartments
for all budgets
. Find hotel offers in Macedonia, see maps and photos of Macedonia, book flights, ferry tickets,
discover Macedonia
, book
guided tours
and make hotel reservations.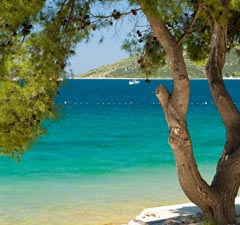 Kassandra, Sithonia and Athos are the three peninsulas that make up the prefecture of Halkidiki.
Land and sea. Tranquility and eternity. Forests of beeches, chestnuts, willows, pine, plane trees. Beaches and beguiling coves. Golden sand. Picturesque villages. Potidea, Olinthos, Stagira, Aristotle's birthplace. Each town has its own history and its own ancestral glory. Mt. Athos, the Holy Mountain of Orthodoxy.
POLIGIROS
Halkidiki's channing capital (69 km. from Thessaloniki), built like an amphitheatre up the foothills of Mt. Holomodas (Holomon). there's an archaeological museum here containing sculptures and pottery, as well as a few neighbourhoods little changed from the past century.
KASSANDRA
The westemmost of the three peninsulas, it is blessed with long stretches of beach and pine forest, and dotted with pretty little villages.
At Petralona, the cave (800 m. outside the village) is well worth a visit. It is situated at the foot of Mount Katsika at an altitude of 250 m. This is a very important cave of palaeontological interest. The overall length of the routes through it is 1900 m. of which a section of about 600 m. has been developed for tourists. There is wonderful decorations of all forms of stalactites (rod-shaped, spiralling etc.), stalagmites, columns, discs etc. The cave was first explored in 1959 and called Kokkines Petres. 34 species of fauna were discovered and classified, and in 1960 the earliest skull in Greece (about 200,000 years BC) was found by chance in the superficial layer. Its taxonomy is difficult because it presents a mosaic of advanced and archaic anatomical features, denoting genetic affinities with both Homo erectus and the Nean- derthals. These finds are now housed in the Palaeontology Departrnent of the University of Thessaloniki. There is a palaentolocal museum next to the cave (tel. 0373/71170); tel. Community of Petralona: 0373/71134.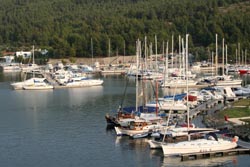 From Petralona, the road passes through lush valleys before arriving at Nea Modania. Nearby there are two traditional hamlets, Dionissiou and Zografou, with low stone cottages, peaked roofs and unusual chimneys. Next, after a lovely drive along beautiful beaches, you come to Nea Potidea, built upon the ruins of the ancient Corinthian colony of the same name.
Beyond it, more sea, more beautiful beaches and quaint fishing villages. Nea Fokea with its Byzantine tower lapped by the waves, the tiny traditonal hamlet of Afitos, Kalithea with its ruins of the sanctuary of Zeus Ammon, Kriopigi, Polihrono, Haniotis, Pefkohori, with its lush vegetation and marvellous sands. At Paliouri on the coast, travellers will find a place to rest and relax at the camping site run by the GNTO. And they will be delighted by the picturesque charm of the village. Sweet-smelling vines and flowers in pots embellish the old Macedonian balconies and courtyards. The road continues on after the western coast, passing through the villages of Agia Paraskevi, Agios Nikolaos, Nea Skioni and Kalandra.
The fishing villages, Nea Skioni, Possidi and Siviri, not only offer a necklace of inviting beaches, but also the freshest of seafood served in abundance with good wine at their small seaside tavernas in a friendly atmosphere.
Then, having seen Kassandra, which boasts the best preserved windmill in the area, you'll wind up at Sani beach, enclosed by a dense pine wood.
The whole peninsula caters to tourism, whether your taste runs to one of the many capacious hotels or to the organized camping sites set amongst its woods or beside the sea.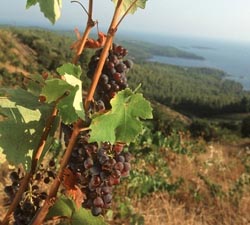 SITHONIA
The middle finger of Halkidiki,
Sithonia
is rimmed with charming little ports, long, sandy beaches, thickly wooded areas and villages by the sea.
Starting out from
Nea Moudania
, the paved road leads to
Olinthos
, long ago an Athenian colony of which some ruins remain.
Not far off,
Gerakini
has a wonderful sandy beach, translucent waters and all the amenities of a contemporary tourist resort.A detour will take you to
Ormilia
(26 km. from Poligiros) with its characteristic local architecture and churches.
The villages of
Metamorfossi
and
Nikitas
follow, their superb beaches lined with pines. From the beach at Nikitas, you can glimpse the chimneys andred roofs of the old houses protruding from the slopes of.a pine-covered hill, while just 2.5 km away there is a restored Early Christian basilica erected in the 5th century.
Our fleeting guide to the beauties of Sithonia continues, proceeding on to
Agios Nikolaos
with its old houses made of wood and stone,
Pirgadikia,
with an island, aspect
Vourvourou
and
Ormos Panagias
, with its enchanting coves and fishing caiques at anchor.
And the parade of villages still hasn't stopped. Next come
Sarti, Sikia, Porto Koufo, Neos Marmaras
. Everywhere you will find natural harbours, lovely scenery, small boats, caiques and fishing nets spread out to dry.
In the south side of Porto Koufo - at the site of ancient
Toroni
- you can still see the ruins of the old fortifications dating back to antiquity and continually augmented on until Byzantine times, as well as the ruins of Early Christian basilicas.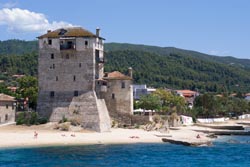 MOUNT ATHOS
Some 38 km east of Poligiros and after a trip up the slopes of Mt. Holomondas, through forests, vine-yards, vegetable patches and flower gardens or along sandy beaches, one comes first to picturesque
Arnea
, followed by
Stagira
, Aristotles's birthplace,
Ierissos
by the sea, and
Nea Roda
before arriving at
Tripiti.
Opposite
lies
the emerald islet of
Ammouliani
.
From here the road descends to
Ouranoupolis
. Men wishing to visit Mt. Athos can board a caique either at Ouranoupolis or Tripiti for
Dafni
, and from there proceed by road to
Karies
, the capital of Athos. This is the site of the peninsula's oldest church, the
Protaton
(10th century), which is decorated with frescoes by Manouil Panselinos, the last great painter of the Macedonian School of Byzantine art.
Basic Conditions of entry to Mount Athos
Mount Athos is a self-governing area of Greek territory. According to a decision of the Holy Community - which is based mainly on the chrysobull issued by Emperor Constanfine Monomachos in 1045 - the terms of entry to the monasteries are as follows:
100 Greek nationals, expatriate Greeks or Orthodox Christian foreigners and 10 heterodox foreigners are allowed to enter the Holy Mountain daily. For entry permits contact the Office of Pilgrims to Mount Athos, in Thessatoniki: 172 Neas Egnatias St., tet. 861.611 (permits for foreigners), 833.733 (permits for Greeks), fax: 861.811. According to the abaton, which has always applied, the entry of women is prohibited. The visitor is admitted after showing the
diamonitirion
(residence permit) which he collects from the pilgrims' bureau of the
Hiera Epistasia
(Holy Superintendancy) in Ouranoupolis. This entitles him to hospitality for four days.
A visit to the Holy Mountain Mount
Athos is a monastic state, which for more than one thousand years has existed, observing rules of life and religion that have not changed since Byzantine times. At its prime there were 40 monasteries with several thousand monks. Today, however, this number has been reduced to 20, peopled by some 1700 monks.
Apart from the monasteries, there are other, smaller monastic residences, such as the sketes, and countless hermits' huts.
Mt. Athos is a ventable museum of Byzantine and post Byzantine art. As the visitor walks to the different monasteries, he will be astounded not only by the frescoes, but by the richness of the libraries, the mosaics, the valuable smaller works of art, the liturgical vessels and the diverse heirlooms within their walls.
Êïutlïõmoussiou
is in the vicinity of Karies. On the east of it is
Iviron,
to the north
Esfigmenou,
and north of it the Serbian Orthodox monastery of
Hilandariou; Dohiariou
and
Xenofonta
are located near Dafni.
The Russian Orthodox monastery,
Agiou Pandeleimona
, is half an hour's walk from Xenofonta. The south side ot Athos has three of the most impressive monasteries on the Holy Mountain: Simonopetra, Grigoriou and Dionissiou,
Agiou Paulou
and the
Skete
of
Agia Anna
lie beyond Dionissiou. One of the oldest monasteries, Megisti Lavra, stands at the southern tip of the peninsula. It contains frescoes by the Athonite painter, Theophanis. Other frescoes by him and other artists of the Cretan School are to be found in
Stavronikitas, Pandokratoras, Vatopedi
and
Dohiariou
. The remaining monasteries are scattered here and there around the peninsula; they include
Karakalou, Zografou, Pandokratoras
and
Filotheou
.
USEFUL INFORMATION
:: Museums and Archaeological Sites
:: Olinthos, archaeological site, tel.: (23730) 21.862.
:: Poligiros, museum, tel.: (23710) 22.148.
:: Spas - Nea Apollonia, Agii Apostoli, Agia Paraskevi.
how to get there
By caique: From lerissos, daily sailings fïr the monasteries on the northeast and southeast coast of Athos. For information, Ierissos Harbourmaster, tel.: (23770) 22.576.
From Ouranoupolis, daily sailings fïr the monasteries ïn the west side. The caique stops at Dafni and from there one takes a bus to Karies. Information, Harbourmaster, Ouranoupolis, tel.: (23770) 71.248.
There are buses from Thessaloniki to both Ierissos and Ouranoupalis. Information, KTEL bus terminal, Thessaloniki, tel.: (2310) 924.444/5.
From Poligiros, by bus to Agios loannis Prodromos.
Information, KTEL bus station, Poligiros, tel.: (23710) 22.309.
Organized tours
Petralona Cave / tour of Kassandra, tour of Sithonia, Sail round Mt. Athos.
GNTO Camping sites
Akti Kassandras - Kriopigi
Facilities fïr 450 persons and places for 97 tents, 18 caravans and 115 cars, tel.: (23740) 51.037.
Kalandra - Possidi. Facilities 650 persons and places for 400 cars and 80 caravans, tel.: (23740) 41.345. There are also a large number of privately-run camping sites at Neos Marmaras, Nikitas, Sani, Kalamitsi, etc.
sports
Water skiing: At Gerakina Beach Hotel, Gerakini, tel.: (23710) 52.302. Also outboards, windsurfing equipment and trained personnel.
Golf: At the Porto Canas hotel complex, Sithonia (18 hole course).
Tennis: Most ïf the hotels in the area possess courts.
Swimming - GNTO organized beaches
At the GNTO camping sites at Kriopigi and Possidi.