Vacation and accommodation in Greece
is a
complete Travel Guide
for Greece. In Vacation-Greece you will find information on
Greek islands
and a list of hotels and villas in Macedonia, studios and apartments
for all budgets
. Find hotel offers in Macedonia, see maps and photos of Macedonia, book flights, ferry tickets,
discover Macedonia
, book
guided tours
and make hotel reservations.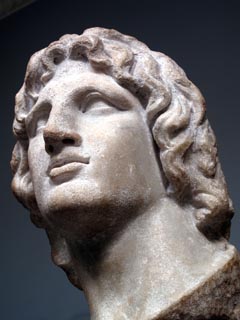 The capital of this prefecture is Edessa, built in the foothills of Mt. Vennion, with a view over the plain, lush greenery, flower-filled gardens and plenty of water. Edessa's celebrated waterfalls is to be found to the northeast of town, in a thickly wooded area with a stunning view. Under the largest cataract there is a small cave with a chapel dedicated to the Ascension (Analipsi). Five kilometres from here is the village of Agras, which took its name from the Macedonian freedom-fighter Tellos Agras. One of Greece's biggest hydroelectric plants is located here. The lake that feeds the plant, which covers an area of 10,000 acres, has become a habitat for wild ducks and swans.
A town famed for its fruit and red peppers is Aridea, while Skidra is considered among the largest fruit- producing centres of Greece.
Another town with an abundance of water is Amissa, built on the lower slopes of Kaimaktsalan, in front of Lake Vegoritis.
Finally, we have Giannitsa, the biggest city in the prefecture and an important agricultural and animal breeding centre.
The villages of Palia & Nea Pella lie just 4 kilometres away, with the ruins of ancient Pella spead out between them. It was here that during the reign of Archelaos (413-399 BC) that Pela became he capital of the Macedonian kingdom. He built a new palace and invited Zeuxis, the greatest painter of the day, to decorate it. Both Philip II and Alexander the Great spent some time here.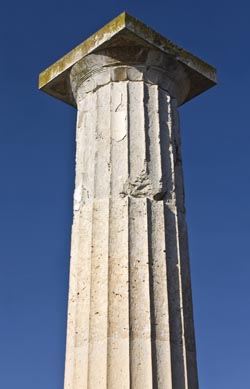 By the 4th century BC, the new capital had become the most important potitica, economic and administrative centre in the Macedonian kingdom.
Excavations here have unearthed parts of the walls, the palace, the sanctuaries of Aphrodite, Demeteτ and Cybele, the agora, cemetery and several houses. In two of these houses, which date to the late 4th century BC, mosaic iloors of exceptional quality have been found; they are perhaps the finest example of the art yet discovered (on display in the museum).
USEFUL INFORMATION
Pella Archaeological site and Museum
: tel.: (0382) 31.160, 32.752.
Μοunatain
climbing
: Οn Mt. Paiko, where there is a small refuge. Information: tel.: (0382) 23.121.
Ski
Centre
: At Kaimaktsalan, refuge. Information: (0381) 23.101.
Swimming
: Ιn LakeVegoxitis.
Specialties
: Fresh peaches, apricots.
how to get there
By bus
: Athens-Edessa, ΚΤEL bus terminal, Athens, tel.: (01) 5252548; Thessaloniki- Edessa, KTEL bus temιinal Thessaloniki, tel.: (031) 525.100.
By train
: Athens-Plati-Edessa, tel.: OSE Athens, tel.: 524.0646. Thessaloniki-Edessa. Tel.: OSE Thessaloniki (031) 517.517/8.