Vacation and accommodation in Greece
is a
complete Travel Guide
for Greece. In Vacation-Greece you will find information on
Greek islands
and a list of hotels and villas in Macedonia, studios and apartments
for all budgets
. Find hotel offers in Macedonia, see maps and photos of Macedonia, book flights, ferry tickets,
discover Macedonia
, book
guided tours
and make hotel reservations.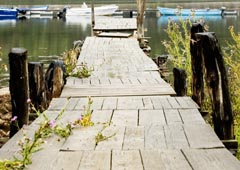 Florina, the prefectural capital, is spread out over a hillside covered with wild chestnut trees.
Aminteo, a modern market town, lies 41 kilometres from Florina, while 6 kilometres from there, on the shores of Lake Vegoritis, there is the picturesque village of Agios Panteleimonas, where an ancient settlement and cemetery have been excavated.
Nimfeo (53 km. from Florina), on the slopes of Mt. Vitsi (alt. 1.350 m.), is both a winter and summer resort; with delightful houses built in the local style.
Further up the mountain is the village of Pissoderi (alt. 1420 m.), where the Vigla ski centre is located. The part of this prefecture that holds the greatest interest for visitors, Greek and foreign, is its two lakes, which form the natural borders of Greece with Albania and the former Yugoslavia.
These lakes, Mikri and Megali Prespa are situated 850 metres above sea level and are separately by a narrow strip of land.
The shores of the smaller lake are filled with reeds that every year provide shelter for many species of birds. Looking as though it is floating in the middle of the lake is the islet of Agios Ahilios, with both ancient and Byzantine ruins; its rocky coast harbours caves once used as shrines, whose walls are decorated with religious paintings.
In the shores of Megali Prespa, which may be either steep and rocky or flat and lush, there is a delightful little village called Psarades. Here, as well as at Agios Germanos, where there is a Byzantine church dedicated to St. Germanow with excellent frescoes, one finds tavernas serving freshly caught fish from the lakes. Niki (17 km. noôth of Florina) is one of the country's exit-entry posts.
USEFUL INFORMATION
Florina Archaeological Museum
: At the square near the train station, tel.: (0385) 28.206.
Vigla-Pissoderi ski centre
: tel.: (0385) 22.082. Parking, 2 ski tows, a ski school and rentals, alt. 1650 m., two slopes.
Mountain climbing
: In Vitsi at Vigla Pissoderi, there is a refuge sleeping 70, with beds and blankets, a restaurant, electricity, water, heating, a kitchen, and fireplace. Information: Florina EOS (Alpine Society), tel.: (0385) 22.354.
Swimming
: At Êïula beach on Megali Prespa and at Psarades
Fishing
: In the lakes and rivers.
Spas
: At
Xino Nero
.
Specialties
: Florina strawberies and red peppers, Aminteo wine.
how to get there
By bus
: (Athens-Florina, KTEL bus terminal, Athens, tel.: 513.0427. Thessaloniki-Florina, KTEL Thessaloniki, tel.: (031) 522.161. KTEL Florina, tel.: 22.430.
By train
: From Athens and from Thessaloniki. OSE Athens, tel.: 524.0646. OSE Thessaloniki, tel.: (031) 517.517/8.