Telendos island
A quick tour in Telendos island, Greece
Vacation and accommodation in Greece
is a
complete Travel Guide
for Greece. In Vacation-Greece you will find information on
Greek islands
and a list of hotels and villas in Dodecanese, studios and apartments
for all budgets
. Find hotel offers in Dodecanese, see maps and photos of Dodecanese, book flights, ferry tickets,
discover Dodecanese
, book
guided tours
and make hotel reservations.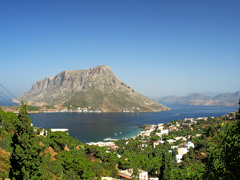 The islet of Telendos lies directly opposite the village of Mirties. Separated by a channel only 700 metres wide, it was united with its larger neighbour until 535 A.D.
Though completely barren, it does have wonderful beaches with clear water on its west coast its few inhabitants all live in the tiny fishing village across from Mirties.
A caique ferries people
back and forth between the two.