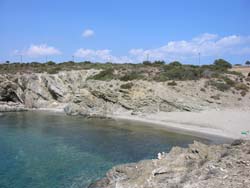 Located south of Naxos,
Schinoussa is part of the Small Cyclades group
. Streched at an area of approximately 8 square km it has a population of 200 residents and has been known to most tourists only lately.
Schinoussa island has remained
untouched by mass tourism
and has, therefore, retained its traditional style. Many visitors have described their holidays there as a trip to the past, especially those visiting during spring, early summer and autumn.
Being a small island, there is
no need for any transportation
other perhaps than a mountain bike, for those who wish to discover the island tracks. Besides, there is no fuels station on the island and fuels is being transferred from Naxos so there are a few scooters for rent there.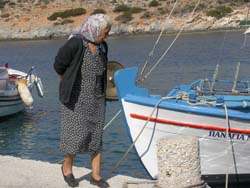 Its inland has small hills with
excellent footpaths
that provide the best view of almost the whole island. Schinoussa is
ideal for trekking
and is surrounded by fabulous shores, beaches of crystal clear blue-green waters which are adorned with idyllic caves and remote lovely coves.
Schinoussa has adequate
accommodation units
(hotels, studios and apartments) and it is definately not famous for its nightlife as it maintains a quiet character.
As for
entertainment
, you will find a few coffe bars and one or two pubs. However, during summer, several cultural events are being organized and they include traditional live music and local dances.
Schinoussa Town
, the island's capital, is also called
Panagia
, or Chora. You will enjoy a walk in its traditional narrow alleys streched between the white washed Cycladic houses.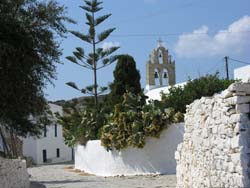 suggested excursions (walks)
Put on your sports shoes and get to know the island by walking through its inland.
Mersini bay
, 10 minutes from Schinoussa Town (Chora)
Tsigouri beach
, 15 minutes from Chora
Livadi beach
, 20 minutes
Do not forget to visit the beaches of
Almyro
,
Liolio
and
Psili Ammos