Vacation and accommodation in Greece
is a
complete Travel Guide
for Greece. In Vacation-Greece you will find information on
Greek islands
and a list of hotels and villas in Thessalia, studios and apartments
for all budgets
. Find hotel offers in Thessalia, see maps and photos of Thessalia, book flights, ferry tickets,
discover Thessalia
, book
guided tours
and make hotel reservations.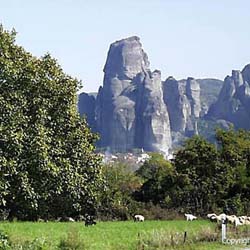 Mountainous prefecture that gathers many visitors each year due to its rich nature and beautiful mountains. Picturesque villages scattered around, rivers, gorges, small waterfalls and rich vegetation are its main characteristics.
Trikala, the capital of the prefecture, is built by the river Litheos and has many squares and small forests. It is 331 km away from Athens and 214 km from Thessaloniki. Almost 50.000 people live there.
There are 3 places that make Trikala prefecture widely known:
>> Kalambaka town
>> Elati village
>> Pertouli village Trikala is an ideal place to visit in all seasons. The area is at its best during spring, when the leaves appear on the trees again and the water in the rivers flows in abundance, and winter, when nature is all white covered with snow.
It is then that visitors arrive in the villages of Pertouli and Elati and stay in the stone built houses with fireplaces. Both villages lie in the slopes of mount Koziakas at an altitude of 1150 m and 900 m respectively. During Christmas it is very hard to get a room there. they are usually booked at least 3 months ahead.