Arki islands
A quick tour in the Arki islands, Greece
Vacation and accommodation in Greece
is a
complete Travel Guide
for Greece. In Vacation-Greece you will find information on
Greek islands
and a list of hotels and villas in Dodecanese, studios and apartments
for all budgets
. Find hotel offers in Dodecanese, see maps and photos of Dodecanese, book flights, ferry tickets,
discover Dodecanese
, book
guided tours
and make hotel reservations.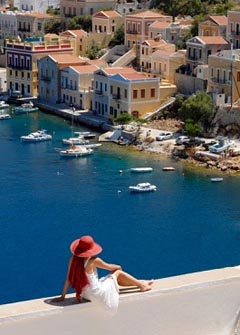 Arki, the small group of islands located approximately 8 n.m. east of Patmos and north of Lypsi. The islands are mainly covered with bushes and have few trees. The main island of Arkyi has bays well protected from northern winds, including its port.
The main island is an ideal holiday place for nature lovers and for those who want peacefulness. It is a favorite place for those who stay in Patmos who use local boats to transfer them to the lovely crystal clear beaches of the islands.
There are very few inhabitants on the island.
Many islets are scattered aroung the main island of Arkyi among which are Marathi, Agrelousa, Strogyli, Makronissi, Spolato, Avaptistos and Psathonissi.
Beaches
Lovely beaches at the noth-east of the island of Arkyi as well as the island of Marathi. Easy to access by sailing boat.