Chios island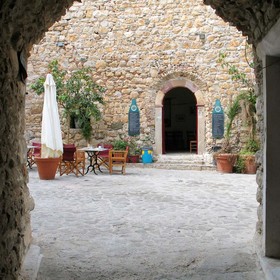 Travel guide to Chios
Chios also written Hios is the fifth largest of all the Greek islands and lies in the north-eastern Aegean Sea, separated by the straight of Chios a channel only seven kilometers wide from the coast of Turkey.

The island is well known to Greeks and the international maritime community for its powerful merchant marine community (Greece has the worlds largest merchant marine fleet).

The island is also well known for its mastic gum; a resin from the mastic tree romantically named the "tears of Chios" by the locals and derived from the ancient Greek word mastihin (or mastichien) which means to "gnash the teeth" or more colloquially to chew. The word masticates and the concept of Chewing gum is closely related of course.

These are not the only things Chios is known for; the large numbers of preserved medieval villages are also a feature of the island. It is also the site for the 11th century Nea Moni monastery a world heritage site protected by UNESCO.

The administrative hub of the island is the town of Chios and throughout the Greek islands these capital towns at the higher peaks of the islands are usually referred to as Hora (Land or country), Chios is no exception to this.

In ancient times it was known as Ofioussa (a place which has snakes) as well as Pityoussa (Pine tree laden) but its modern name is a derivative of the Genoese Scio or the Italian Chio. The ottomans called it Sakiz which evidently never "stuck" after the 400 year ottoman occupation.

Access
Chios is accessible via chartered flights with Thomas Cook and Transavia with short stopovers on Mytilelne (Lesvos) and scheduled flights with Olympic airlines and Aegean airlines to & from Athens via Lesvos, Samos, Rhodes and Thessaloniki with connecting flights to all major European Cities.

Ferries are another way to get there from mainland Greece with Hellenic seaways Piraeus to Mytilene and Piraeus to Chios non stop.

Nel lines Piraeus to Mytilene, Lemnos, Thessaloniki, Kavala and Piraeus to Chios non stop.

Lane sea lines from and to Alexandroupoli, Thessaloniki, Lemnos, Mytilene, Samos, Ikaria (at Agios Kyrikos), Kalymnos, Kos and Rhodes

Saos ferries to and from Kavala, Lemnos, Mytilene, Samos and Ikaria

For your tickets to/from Chios always consult a local travel agency to be informed of any changes due to unforeseen circumstances.