Vacation and accommodation in Greece
is a
complete Travel Guide
for Greece. In Vacation-Greece you will find information on
Greek islands
and a list of hotels and villas in Dodecanese, studios and apartments
for all budgets
. Find hotel offers in Dodecanese, see maps and photos of Dodecanese, book flights, ferry tickets,
discover Dodecanese
, book
guided tours
and make hotel reservations.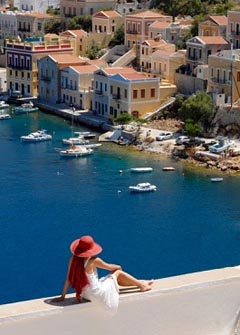 Dodecanese is a group of islands in southeastern Greece in the Aegean Sea, It is located between the southwester coast of Asia Minor and the island of Crete, south of Samos, and Fourni, and east of the Cyclades. Although its name means "12 (dodeca) islands", the group
consists of about 50 islands
and islets. Only 18 of these islands are permanently inhabited.
Of these the most important are Rhodes, Kos, and Karpathos. Rhodes island, on which Rhodes or Rodos Town, capital of the group is located, has the largest area and population of all the islands. The other inhabited islands are Kalymnos, Leros, Nisyros, Patmos, Kasteloriso (Megisti),
Astypalea
, Kassos, Halki, Tylos, Pserimos and Lypsi. The total population of all the islands is about 146,000 inhabitants.
Agriculture is the chief occupation of the Dodecanese, the leading crops being olives, grapes, oranges, and other fruits and vegetables.
Sponge fishing
is locally important (especially in Kalymnos), but of major economic significance to the island is tourism, which flourishes during the Summer months.
Several islands of the Dodecanese, especially Rhodes, were settled by the ancient Greeks and figured prominently in Hellenic civilization for many centuries. The islands subsequently became Roman dominions.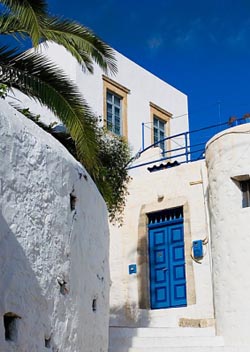 Following the division of the Roman Empire, the belonged to the Byzantine Empire. In 1522 the Dodecanese were seized by the Ottoman Turks, who retained control until the successful invasion of Rhodes in 1912 by Italian armed forces. During World War II, in 1943, German troops occupied the Dodecanese, and in May of 1945, the island were relinquished to British forces. The Dodecanese was formally ceded to Greece in 1948.
Nowadays,
Rhodes
and
Kos
are among the most popular and cosmopolitan islands in the Mediterranean. Kalymnos is the island of the sponge divers, while Halki, Nisyros, Kassos, Tylos and Pserimos are still kept away from the massive tourism , retaining their traditional character.
Symi
is a picturesque small island which becomes popular, wild and mountainous Karpathos is dramatically beautiful, Agathonisi and Kassos are hilly and difficult to reach.
Patmos
is the island where Saint John the Divine wrote the prophetic Revelations while the visitor has to make an excursion to the nearby islets of Fourni, Lypsi, and Agathonissi where he will find his own totally private beach. Leros is relatively quite, while Astipalea has a magnificent geographical location and the architecture matches Cyclades.
Last but not least
Kastellorizo or Megisti
is the destination at the "edge" of Greece. You can not get any further.
Direct charter flights
are available from European cities to Rhodes, Kos and Karpathos. Daily flights operate from Athens to Astypalea, Leros, Kos, Rhodes and Karpathos, while inter-island flight service operate between Karpathos and Crete, Kos and Leros, Rhodes, Karpathos, Kastellorizo, Crete, Santorini and Mykonos.