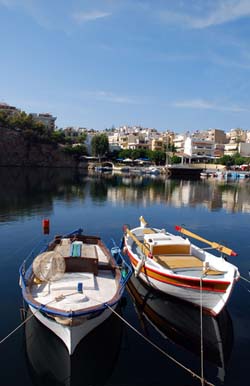 Lassithi is the east prefecture of Crete.
On the
beautiful Gulf of Merabello
there is Ayios Nikolaos, the capital of the prefecture of Lassithi, and a tourist center in Crete. Aghios Nikolaos is one of the most picturesque harbours with the fish boats and the houses built around it. built on the Mirabello Bay this beautiful port full of cafes and tavernas offers to the visitor a traditional atmosphere and lifestyle making Lassithi a beautiful resort for your vacation on Crete island.
Lassithi prefecture is filled with wonderful sandy beaches both on the north and south coast some of them are of unique beauty. One of the most known resorts is the cosmopolitan Elounda.
Other worth visiting places are Ierapetra and Sitia. There are also many villages of special beauty in the prefecture, such as the Lassithi plateau, where the spectacle of 10,000 windmills is unique, the famous Vai. On the north east end or Palmforest, a fabulous sand beach embraced by thousands palm trees and Neapolisituated in a valley, full of olive trees and vineyards.
In
Lassithi prefecture
like the rest of Crete you will come upon remarkable venetian and turkish monuments archaeological sites proving the long Cretan history. You can also visit many superb buildings of the venetian era, Turkish mosques and Byzantine churches in many towns and villages of the prefecture.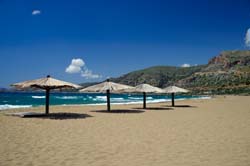 TRAVEL TO LASSITHI
The Municipal
Tourist Information Office
is always here to help you through any particular information or booking request, offering maps, brochures, excursion leaflets and currency exchange (at bank rates) open from 8.30 am to 9.30 pm by the lake.
Fun for all the family...
Come along and play a round of
Mini Golf
.
If you don't fancy any kind of exercise you can just lay back and relax at the Snack Bar watching people playing around !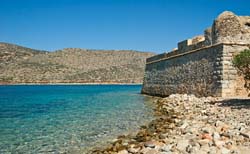 Transportation...
Aghios Nikolaos is served by the airport of Heraklion which is less than an hour away, by car. The very good road network allows easy acces to other towns and villages of the area as well as the rest of Crete.
Aghios Nikolaos has direct link by boat with Piraeus, Sitia, Milos, Santorini, Karpathos, Kassos, Kos, Rhodos, etc. Scheduled bus service to Heraklio -Ierapetra - Sitia - and many villages, is frequent and efficient. There are also many agencies for car or motorcycle renting.