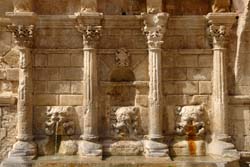 Welcome to Rethymnon
, the small Mediterranean town with its Renaissance architecture, Venetian fortress, museums and sandy beaches.
We are certain that like thousands of other visitors, the great variety of sights, the high-quality accommodation and facilities are only a few reasons which will make you return to the Prefecture of Rethymnon annually. As for the surrounding province, the difficulty is in deciding what to visit first.
Whether it is the endless beaches, the monasteries and churches, the ancient sites or the Venetian and Turkish monuments, there is plenty to see.
Rethymnon prefecture
is rich in characteristic villages and areas of great natural beauty as well as caves and soaring mountains. Of course, we must not forget the local people, famous for their hospitality, who will befriend you and may even share a glass of "Raki" with you. When you arrive in this magical place with anxiety and stress, the atmosphere and life will make you soon forget your worries.
Welcome to Rethymnon. We are sure that you will enjoy your stay and come back again!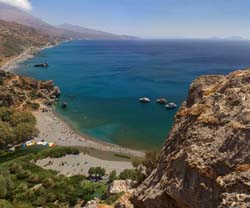 ENVIRONMENT AND CLIMATE
The
Prefecture of Rethymnon
is semi-mountainous. Of its 1.496 km2, 507 are cultivated, 936 are pasture, 36 are covered by settlements and only 17 km2 are covered by forest. The largest forests can be found in the area of the Village Armeni (oaktrees), Aghios Ioannis Agiou Vassiliou (cypress), Kouroutes and south of Arkadi Monastery (thorn oaktrees). Typical are also the smaller arbutus forestation at Alones, mapletree in the Nida Plateau area as well as palm trees at Lake Preveli and at Selia.
The climate is mild Mediterranean
and particularly dry and warm. There is sunshine ïn 245 days of the year and temperatures range from 12° to 27° C. The prevailing winds are northerly and north-westerly, while occasional hot southerlies arriving from the African continent with great strength. The natural environment of Rethymnon is in a good condition and the sea-water is among the best in Europe.
Fortunately most of
wild nature
have been preserved unharmed, in the districts of Amari and near the town of Rethymnon in particular. There are 8 types of land in the prefecture: plains, mountains, semi-mountainous areas, sub-alpine, alpine, coastal, wetlands and gorges. The resting gorges in terms of natural beauty are those of Aghios of Patsos, Prasses, Petres and Kato Poros.