Vacation and accommodation in Greece
is a
complete Travel Guide
for Greece. In Vacation-Greece you will find information on
Greek islands
and a list of hotels and villas in Dodecanese, studios and apartments
for all budgets
. Find hotel offers in Dodecanese, see maps and photos of Dodecanese, book flights, ferry tickets,
discover Dodecanese
, book
guided tours
and make hotel reservations.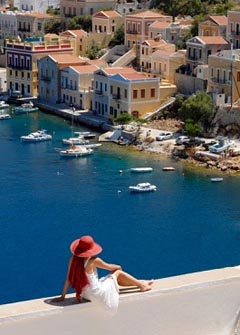 A lovely, mountainous island, Symi (or Simi) was reputed to be the birthplace of the Three Graces.
While its interior is punctuated with small valleys, its coastline alternates between being steep and rocky or sandy and indented with little coves.
In antiquity it bore the names Aigli and Metapontis. It took its present name from the nymph Syme, who was Poseidon's wife.
After its conquest by the Knights of St. John in 1373, commerce and shipping flourished until steam replaced sail. The stately mansions in the main town date from this period, which reached its peak in the 19th century.
The capital in the north of the island bears the same name and is divided into the upper and lower town, Ano Symi and Kato Poli. The lower town is also called Yialos. The two districts are linked by a lane so steep it has steps. It is flanked by charming neoclassical houses, some of them painted in warm pastel colours, with balconies and peaked, red tile roofs. Many of them also are embellished with neoclassical features on the doors and windows. Their interiors are decorated with wood carvings, the locals having been adept at the craft for generations.
The highest point in Ano Symi is capped by the usual castle of the Knights of St. John, whose emblem can be seen above the main portal.
The traditional village of Emborios is Symi's second port. The ancient town of Metapontis was situated close by.
One of the island's most famous landmarks is the monastery of the Archangel Michael Panormitis on the southwest coast. Built in the early 18th century, it overlooks the bay bearing its name in a setting combining mountain and sea. It contains marvellous Byzantine frescoes and an intricately carved iconostasis.
There is no lack of wonderful beaches on Symi. You'll enjoy swimming at Yialos, Pedio, Emborios, Marathounda, Nanou as well as on the nearby islets of Agia Marina and Nimos.
how to get there
By ferry
from Pireas
For information on ship routes contact Piraeus harbour master, tel.: 210/4226000