Folegandros is a
small and rocky island
between Sikinos and Milos. Visitors will be struck by the wild beauty of the barren landscape, where huge rocks alternate with sandy beaches.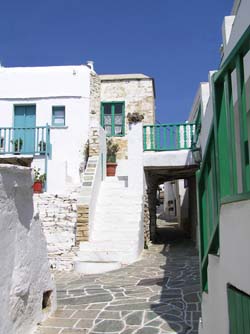 On a flat expanse above the pretty harbour of Karavostassis is Hora or Folegandros, which consists of two sections. In the
old settlement in the Kastro area
, the outer walls of the houses form the sort of defensive precinct to be found elsewhere in the Cyclades.
The new quarter is just as pretty, with narrow alleys, stepped walls, courtyards, wooden balconies and typically Aegean churches. The finest church on the island, that of Our Lady, stands above a section of the ancient wall.
Chrissospilia, nearby to the north, with stalactites, stalagmites and
traces of ancient occupation
and the small settlements in the Ano Meria district are the sights to be seen around the island's main village.
Ano Meria also has the Ecological and Folklore Museum, with exhibits which reconstruct the farming practices of the islanders.
Among the beaches for swimming are Karavostassis, Livadi and Agios Georgios bay. Although Folegandros has little in the way of tourist amenities or roads, it attracts more and more visitors each year - chiefly those in search of solitude close to nature.
You can
travel to Folegandros
via the port of Piraeus or via other Cycladic islands. Connection with the islands of Sifnos, Santorini, Milos, Naxos, Paros, Syros, Amorgos, Kythnos, Serifos, Kimolos, Sikinos and Ios during the summer months.