Vacation and accommodation in Greece
is a
complete Travel Guide
for Greece. In Vacation-Greece you will find information on
Greek islands
and a list of hotels and villas in Macedonia, studios and apartments
for all budgets
. Find hotel offers in Macedonia, see maps and photos of Macedonia, book flights, ferry tickets,
discover Macedonia
, book
guided tours
and make hotel reservations.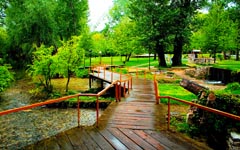 Valleys and mountains. Refuges and ski resorts. Glorious forests. Flocks of birds. Fertile soil, endless tobacco plantations. Caves with enormous multicoloured stalactites. Rivers that burble gently. Lyrical waters. Magical scenery. Hospitable people with warm smiles. The prefectural capital,
Drama
, lies at the foot of Mt. Falakro, which the locals call "the mountain of the flowers".
This mountain of remarkable beauty boasts ski slopes for winter sports enthusiasts and four well-equipped refuges for climbers. The town, drenched in greenery and flowers thanks to its abundant water, looms above the valley filled with tobacco fields as far as the eye can see.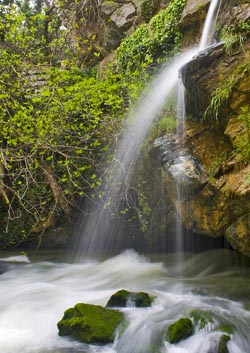 Why not take a hike through the wonderful forest of Elatia (70 km. norfh of Drama), where amongst the pines, oaks and beech, the red fir grows, a very rare tree in this country whose height often reaches 50 metres. Southeast of Drama (10 km.) is the pretty market town of
Doxato
, with facilifies for tourists and a reputation for fun and high spiritis.
The Âïunar-Bassi springs, a corner of Paradise with running streams and enormous trees, are just 3 kilometres away at the foot of
Kouslari
,a low mountain.
USEFUL INFORMATION
Caves: Mara's cave
, at Kokinogies, 20 km. from Drama, filled with stunning coloured stalactites, some of which are 2 metres in diameter with tips reaching the water's surface.
Falakros ski centre
: Tel.: (25210) 33.054, 33049, 42 km. from Drama, alt. 1750 m., one difficult slope, 1000 m. long.
Mountain climbing
: Falakro: a) Refuge at Bartisseía, alt. 1141 m., 40 km. from Drama, sleeps 16 people; b) at Kouri, alt. 1400 m., 2 hours walk from Pirgi village, 1 hour 30 min. from Volaka, sleeps 16 people; c) at Horos, alt. 1700 m., 4 hours 30 min. from refuge A and 3 hours from Volaka, sleeps 20 people. All the refuges have beds, mattresses and blankets,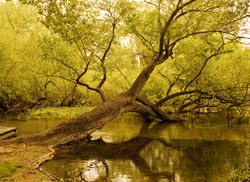 heating, water, and a kitchen. d) at Agio Pnevma, at the Falakro ski centre, no facilities for spending the night. Information and keys: EOS (Alpine Society) Drama, tel.: (0521) 33.054.
Fishing
: In the Nestos river and its tributaries.
how to get there
By bus: Athens-Drama, information KTEL bus terminal Athens, tel.: 210.513.0220. Thessaloniki-Drama, KTEL bus terminal, Thessaloniki, tel.: (2310) 525.131.
By train: Athens-Drama, information OSE Athens, tel.: 210.524.0647. Thessaloniki-Drama, OSE Thessaloniki, tel.: (2310) 517.517/8.