Vacation and accommodation in Greece
is a
complete Travel Guide
for Greece. In Vacation-Greece you will find information on
Greek islands
and a list of hotels and villas in Dodecanese, studios and apartments
for all budgets
. Find hotel offers in Dodecanese, see maps and photos of Dodecanese, book flights, ferry tickets,
discover Dodecanese
, book
guided tours
and make hotel reservations.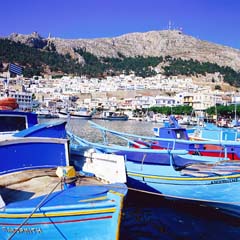 The terrain of this fourth largest of the Dodecanese is mountainous, except for two fertile valleys. It is along these valleys that its biggest villages have sprouted
Kalymnos
or
Pothia
and
Vathi
.
Castles, remnants of fortresses, archaeological finds, and old churches bear witness to the continuous importance of Kalymnos in the history of the Aegean. Its natural attractions - caves, lovely beaches, unspoilt scenery - make it a mini earthly paradise.
Kalymnos is widely known as the sponge fishers' island, since such a large portion of the population is engaged in this age - old occupation.
Once the island's capital was located at
Horio
, which benefited from the protection offered by the castle of the Knights of St. John just above it.

Today's capital is Pothia or Kalymnos, founded around 1850 by the inhabitants of Horio.
Its brightly coloured houses surround the port like the seats in an amphitheatre, arranged along the hillsides down to the caiques and fishing boats bobbing below. An old church dedicated to Christ the Saviour adoms the waterfront. It is decorated with frescoes and valuable icons, while its iconostasis is the work of the well known sculptor, Gianoulis Halepas.
Kalymnos has other charming villages, like Vathi, set in a fertile valley full of citrus tress, and Metohi, on the southeast side of the island. The quiet hamlet of Emborios lies to the north.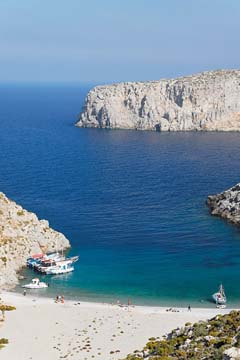 To the west are Massouri, Mirties, Kamari and Panormos where one can try sea-food dedicated such as «fouskes» and «chtapokeftedes». On the road to Panormos, You will notice the remains of a three - aisled basilica dedicated to Christ of Jerusalem, which was erected around the 6th century on the site of an ancient temple where Delian Apollo was worshipped.
To the north of the main town is Pera Kastro, also called the Castle of the Golden Hands (Hrissoheria), because the chapel in its interior has an icon of the Virgin whose hands are covered with gold leaf. Northeast of Pothia, at the foot of Flaska hill, is the cave of the Seven Virgins or Nymphs (not to be visited).
Kalymnos boasts two other caves, the richly decorated Skalies, about 100 metres from the village of Skalia in the north of the island (not to be visited), and Kefalas or Trypas Kefalas to the south (which can be visited and one can approach it by boat).
At
Therma
, only one kilometre or so from Pothia, there are
thermal springs
and therapeutic bathing installations, rooms where visitors may spend the night, and specially trained personnel to assist them.
Among the lovely beaches on Kalimnos are Massouri, Mirties and Arginondas along the west coast and Vlyhadia in the south.