Tinos lies very close to the southern tip of Andros. This is the
holy island of Virgin Mary
, which in August is swamped by pilgrims who have come to pray in Her church or in fulfillment of a vow. As Our Lady's feast day on 15 August approaches, the church and the town of Tinos become crammed with people, and religious services take place next to the commercial fair being held in the surrounding beaches.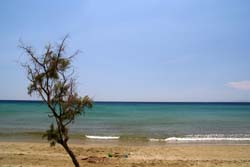 A line of mountains, whose highest pick is Mt. Tsiknias (in the myths, the home of the wind-god Aeolos), runs the length of the island. On its lower slopes, walls like the fortifications of old castles divide the terraced fields. The coast of the island is mostly steep, but there are also numerous coves with
sandy or pebbly beaches
. Among the special characteristics of Tinos are its dove - cotes. These structures developed from simple roosts of pigeons into works of art - and the stone-built fountains to be seen in the villages evolved in a similar manner.
Tinos,
capital of the island
and its port, is where most of the population lives. A broad pave street leads from the harbour to the low hill on which stands the magnificent church of Our Lady. Built in marble from Paros and Tinos itself, the church stands overlooking the town on the site where a miraculous icon of Our Lady was discovered.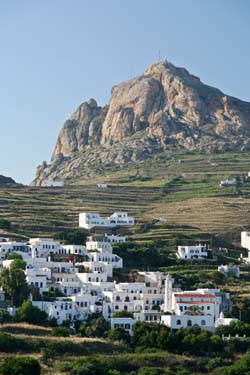 Next to the church is the Gallery of Tinion Artists and Modern Greek Painters, which has a very interesting collection. Close by is the
Archaeological Museum of Tinos
. It houses finds from the temple of Poseidon and Amphitrite (at Kionia beach) and from the Geometric burials of Exo Meria.
At Xombourgo, we can admire the ruins of the medieval castle, on the south side of which is a sanctuary of Demeter and Persefon. The
interior of the island
has been little affected by tourism, and the 45 villages have retained much of their traditional character and distinctive vernacular architecture. Among the most interesting villages are the large settlements of Falado, Steni and Pirgos, the latter which has a museum dedicated to the sculptor Halepas, the house of the artist Lytras and numerous marble-sculptors' workshops.
Among the
monasteries of the island
, many of them built on superb sites, we could single out of that Our Lady of the angels at Kehrovouni (Panagia ton Angelon) which has the appearance of a Tinos village in medieval times. There are plenty of good beaches, too, notably at Agios Fokas, Porto, Panormos bay, Kolimbithra, Agios Sostis and Pahia Ammos.
The
lunar landscape
at the spot known as "Volax", with its peculiar boulders, is probably unique anywhere in the world. The beauties of Tinos are gradually making a name for themselves. Although amenities for tourists outside the town are scant, they are constantly expanding.