Vacation and accommodation in Greece
is a
complete Travel Guide
for Greece. In Vacation-Greece you will find information on
Greek islands
and a list of hotels and villas in Dodecanese, studios and apartments
for all budgets
. Find hotel offers in Dodecanese, see maps and photos of Dodecanese, book flights, ferry tickets,
discover Dodecanese
, book
guided tours
and make hotel reservations.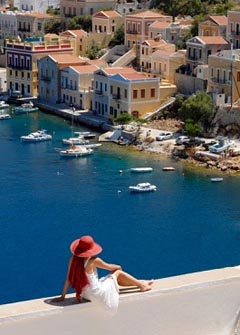 Covering a mere 13.5 square km,
Agathonisi
, this tiny island in the Dodecanese cluster, is actually the northernmost of them all, located approximately 36 nautical miles from Patmos. Its main characteristic is that, despite its small size, it has many bays ideal for swimming, well protected from the northern wind. With a population just above 100 people, it is the ideal holiday spot to unwind and break contact from the "real world".
From Patmos it's an easy jaunt to Agathonisi.
This islet with its wonderful beaches is an ideal spot for anyone wishing to escape the pressures of everyday life for a while. It is also an ideal holiday place for nature lovers and walkers.
Inhabitants' main source of income comes from fishing and cattle breeding. They are very warm and hospitable people.
Many islets are scattered around Agathonisi. Some of them are Prasso, Strogyli, Pita, Katsagani and Kouneli. There are three main villages on the island, Mikro Chorio, Megalo Chorio and Agios Georgios which is the island's port. The area of Katholiko, at the NE part of the island, is known for its fisheries.
Beaches
Many beautiful beaches are located at the bay of the port. The beach of Spilia at a distance of 800m EW of the port and within a short walking distance the beach of Gaidouravlako. The beach of Tsagari is only a 10 minute walk east of the port. The bay of Poros has equally nice beaches.
It is, however, easier to explore the island by sailing boat. This way one gets to explore all the islets that are otherwise not easy to reach.