Hotels in Crete
,
Rethymnon
,
Chania
,
Lassithi
and
Heraklion
prefectures inforrmation guide.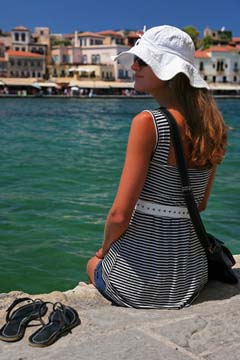 In many respects, Crete stands alone compared to the other
Greek islands
because of its sharply evident antitheses. These contrasts are plainly seen in the geomorphologic lay of the land, the innate beauty of its beaches and wild countryside. They are also easily evident in its fiercely independent, proud, enduring people, who are well known for their role in ancient and recent Greek history (most recently during WW2 for Hitler's dearly won and time costly victory), who are recognised for their deep rooted culture and for their own peculiar dialect which is most times strange even to the average Greek mainland ear.
As far as food is concerned, the utterly mind boggling variety the hungry stomach can feast on is truly awe-inspiring and a veritable feast to the palette and eyes!
For the body and serenity of mind and soul, hiking, biking around the countryside or walking the span from the mountains or the dramatic gorge of Samaria that can be traversed by foot in 6 hours or less if you are in a hurry. If you are a serious hiker, you can ford rivers that traverse green plains and greener valleys while wandering across the fertile Lassithi and Omalos plateaus. Your eyes will see beaches that make you want to lie down on the warm surface, dig your toes into the warm golden sands and witness the spectacular breathtaking caves of indescribable beauty and colour, all found in the same mythical land.
The island is a veritable paradise on earth in country, rare species of fauna and flora are to be found everywhere and the countryside constitutes a delight to the hiker who can experience the scents of wild herbs growing on the mountains that make for a heady bouquet, while the excellent, mild climate year round which is warmed by the Saharan desert to the south make it very comfortable. The fertile soil of the island has made it totally self-sufficient in all products that are derived from it. Crete offers golden green olive oil, both salty and sweet cheese snacks to compliment wines with a wide spectrum of flavours that will last you a lifetime conjuring up sweet memories and strong friendships with the locals as strong as the famous and pungent raki made from grape distillation that has been done twice or more times, sweet smelling fruits and vegetables are all known for their high quality, smell, colour and beg to be tasted. It is well known amongst all Greeks and in fact medically documented the world over that the Cretan diet has been accepted as among the best for promoting long life and good general health.
The jet set internationally appreciates the coastal resorts of Crete which are a popular hangout for them and are well known for their surrounding, pristine, wild, natural environment. All these resorts feature spectacular beaches sporting the blue flag for crystal clear waters of varying colours and hues, and each has high quality services, a very intense night life and an abundance of choices with extravagant budgets and easily satisfies even the most demanding tastes. For tourists that wish to stretch their cash there is no shortage of accommodation that offers really good value for money and this is especially if it is family owned. However, if you wish to experience the real essence of what makes Crete truly Cretan, you should start by visiting its mountain villages where the Cretan tradition and attitude toward life is vividly colourful and quite boisterous at times. The welcoming, hospitable locals will embrace you warmly into the genuine Cretan way and philosophy of life, with deep soul stirring Cretan music washed down with plenty of the potent local raki, cheese and homemade wines with tasty mezedes fit for a king and queen the likes of which the gods drank and ate.
If you have the good fortune to be invited to a traditional Cretan wedding, it is guaranteed to be an experience you will never forget! Traditional weddings here can last for quite a while where guests are invited to partake in the non-stop consumption of food and drink, very lively music, singing, dancing and plenty of firearm ammunition fired into the air, that is just the first day – this can go on for as long as three days! Many of the attending guests and dancers will be dressed in traditional garb where men wear the commanding black headdress, shirt, baggy trousers and knee high boots to match and a handmade knife in the waistband with a mandinada (short poetic verse) carved on the blade and the women are as colourful as birds of paradise and just as graceful in dance.
Amidst three continents those of Europe, Asia and Africa, Crete has always been a target for invaders throughout centuries because it is geographically and strategically positioned. Despite the fact that several conquerors succeeded in dominating the island thereby leaving their cultural mark (among them the Romans followed by the Byzantines and then the Venetians and finally the Ottomans), none ever quite managed to rule the free– and just a little crazy - spirit of the Cretan people. These islanders are famed for their innate pride, lavishly warm hospitality and primarily for their passion for life and freedom and all these qualities are even more evident in their music and dance which are certainly manifest in their way of life.