Hotels in Crete
,
Rethymnon
,
Chania
,
Lassithi
and
Heraklion
prefectures inforrmation guide.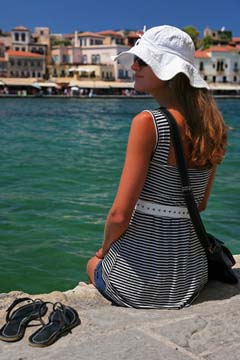 In this
Crete travel guide
, you will find plentiful information on accommodation in Crete in general and then specifically for each prefecture. You will learn about the history of the island, many towns and even more villages in the countryside, abundant sightseeing and the scores of pristine beaches.
In Crete, accommodation of every kind can be found in large numbers, especially in the most highly developed tourist areas of the island. During the last 2 decades, many
hotels in Crete
have been built and availability is easy to find, even during high season. However, will it be the right one? Although there are also thousands of rooms on the island, what seems to attract more and more fans lately are the thousands of
villas in Crete
of various standards, from plain detached houses (usually called villas) to luxury villas and sometimes estates. Generally, in Crete, accommodation ranges from budget to super luxurious.
There is another longer range accommodation solution in Crete; apartments of all kinds. These are usually privately owned and will provide a family or good friends with an economical small family holiday alternative to the classic large luxury Crete villa with all the trimmings and many extras that the large family budget traveller to Crete can experience. In the case of large families staying in a villa in Crete, the expense is cheaper per person that of other seemingly cheap accommodation solutions and by far more comfortable. Another solution for a number of people is to share in the expenses of the villa in Crete amongst themselves, so it is ultimately a very affordable solution for several couples, good family friends or an extended family.
In Crete rooms owned by family businesses is the cheapest way to go for short or long periods if one is not really concerned with creature comforts and does not mind having just the basics but with all the required amenities.
Holidays in Crete
are an experience never to be forgotten; this is why it is also the most popular tourist area of Greece and also has the highest repeat tourism in the country. In Crete holidays that are well planned, as well as those that are not planned and on a shoe sting expense budget during the low peak season, will prove to be a very fond memory. In fact, such is the charm of this island that a substantial number of visitors choose to make their home there for several months at a time or even choose to immigrate to Crete permanently.