Vacation and accommodation in Greece
is a
complete Travel Guide
for Greece. In Vacation-Greece you will find information on
Greek islands
and a list of hotels and villas in Epirus, studios and apartments
for all budgets
. Find hotel offers in Epirus, see maps and photos of Epirus, book flights, ferry tickets,
discover Epirus
, book
guided tours
and make hotel reservations.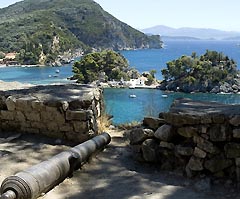 Declared a tourist destination in 1962,
Parga
is not the type of place to visit for the party goer; it is quite the quiet town which is great for rest and recuperation.
Apart from lazing about in the sun on the two beaches in the immediate proximity of the town, short day trips to the surrounding areas are popular and on an extended stay offer a change and things to do.
Lichnos (Lihnos)
has a stunning beach with an atmosphere that offers great relaxation whereas for those that wish to punctuate their relaxation with some more strenuous activity, a little farther up is the beach of
Ai Giannakis
with a variety of water sports.
Due to the nature of the
wild landscape of Parga
, there are many concealed little coves and "secret" spots that can only be accessed by
boat for hire
, usually you strike a deal with a local to take you there and bring you back at an agreed upon time. Chances are you will also see a variety of yachts and boats of all kinds in some of those picturesque bays and coves.
While driving due south along the
Preveza
coast the coastal road meanders through Loutsa and
Vrahos (Rock)
which is more of a
party beach
with many bars for the thirsty visitors.
Lygia
is also another very popular holiday destination and Riza (Root) which is a far lesser known and therefore quieter swimming spot. These two beach destinations are quite the favourite for a number of Europeans visiting who choose to come by road with their mobile homes (RV's) via Italy.
Kanali
follows with
Monolithi
which was voted in the
top 10 best beaches in Greece
.