Vacation and accommodation in Greece
is a
complete Travel Guide
for Greece. In Vacation-Greece you will find information on
Greek islands
and a list of hotels and villas in Epirus, studios and apartments
for all budgets
. Find hotel offers in Epirus, see maps and photos of Epirus, book flights, ferry tickets,
discover Epirus
, book
guided tours
and make hotel reservations.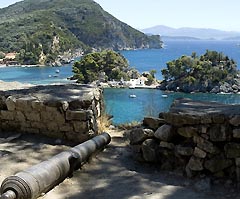 Parga is a summer town
and quite busy in the high season with a good quality tourist population which rises noticeably during the in season and meanders through the narrow alleys population to double and almost triple the normal winter population of 2,500.
A favorite place to stroll along is of course the main promenade which is lined with a variety shops and café and due to its proximity to Italy, is quite popular with the Latin neighbors who quite often disembark with their own vehicles so they can take short day trips to the nearby areas.
Because of its innate beauty and
wonderful beaches
, Parga is a firm favorite for visitors and is therefore well developed in tourist infrastructure offering many
hotels
,
rooms
and even well organized camping grounds.
Only 25 minutes away from Parga are the ancient ruins of the Nekromandeio of Acheron. The Nekromanteio is at the river Acheron and was an oracle lesser known than that of the well known oracles of Delphi, but with its own exceptional character and story to tell. It was supposedly built at the gates of Adi (Hades) allegedly providing easy access to anyone who dared to venture to the zone of the edge of life and death that kept the living and the dead apart. Nekromanteio means the Oracle of the Dead. In ancient times it was believed to have acted as the point of departure for those who wished to communicate with the dead.
From Preveza to get to Aktio you take the underground tunnel which once through will place you a short driving distance from the bridge that joins Lefkada to the mainland.