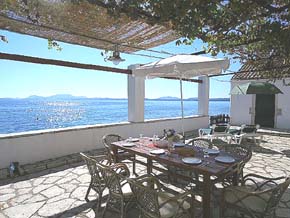 Overview
The Olive Press has to be one of our favourite properties, for its incomparable setting right on the water's edge, and for the way its owners have turned it into a very beautiful villa without sacrificing any of its dignified architecture and appearance. Just a few subtle changes have been made to the old building, with its massive stone walls and wooden ceilings; just enough to add to the comfort and convenience of the house. The terrace is quite superb, a marvellous setting for outdoor 'gracious living' - romantic dinners by the sea, lingering lunches with the waves splashing against the wall for accompaniment.With a secluded beach close by and your own speedboat (optional extra), it must be one of Corfu's finest properties.Located between Nissaki and Barbati and totally private. It is very easy to fall in love with the Olive Press. Filled with character and with the natural beauty that all old Corfiot buildings seem to have, it will soon begin to feel like home to you.
Layout
Ground floor: Sitting/dining room, kitchen (with dishwasher and washing machine), bathroom (with shower), terrace.
Upstairs: Three bedrooms (1 double 2 twin), bathroom (with bath). Ceiling fans. The bedrooms are air conditioned.
Dining/Lounge Area
The wooden-ceilinged, open-plan lounge and dining area is very spacious, occupying almost the entire ground floor. It is furnished in a comfortable rustic style, entirely appropriate to the appearance of the house. Two doors open on to the beautiful sea terrace. The kitchen used to be a separate, rather small room, but has now been opened up to connect very conveniently with the main living area.
Kitchen
The modern kitchen is well-equipped with modern appliances including dishwasher and washing machine, and has a pretty window overlooking the garden behind the house. The kitchen connects very conveniently with the dining area, and the door leading out on to the sea terrace makes outdoor eating simple to organise. Bedrooms The three bedrooms are upstairs and accessed by an elegantly furnished hallway. The master bedroom is a double and features a 'Juliet' balcony with breath-taking seaviews.
All bedrooms have front-facing seaviews with 'Juliet' style balconies.
Bathrooms
The Nissaki Olive Press has two bathrooms. One upstairs and one downstairs.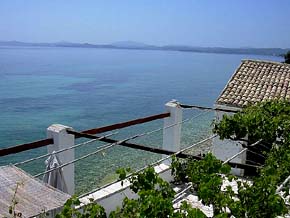 Seafront Terrace
The south-facing terrace could not be any closer to the sea - the waves splash against its wall. A few steps lead down to the water's edge, where the swimming is glorious in an incredibly clear sea.
The terrace is very well furnished, for both outdoor meals and lounging about soaking up sun and views. Shade is provided by an old grapevine, and by large modern umbrellas.
The Sea
The Olive Press has the largest pool on the island - the sea itself! A small (lockable) gate and just six stone steps lead you directly into the sea. The water is crystal clear, making snorkelling a delight.