Naxos, Kastraki beach, Naxos Hotels
Summerland Holidays Hotel
rooms / units
standard rooms up to 3 pax
studios up to 3 pax
apartments up to 5 pax
most important features
2 swimming pools
Outdoor hydromassage (in the pool)
Restaurant
contact information
tel.: +30.22850.75461, +30.22850.75462
fax.: +30.22850.75061
mobile.: +30.6944.388.007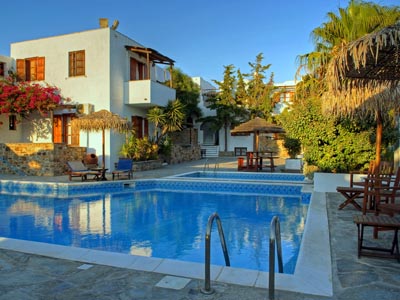 Located in Kastraki, appr. 250m from the beach, Summerland Holidays Hotel is an excellent choice for couples and families, offering spacious rooms, a rich breakfast, a restaurant and a cool environment during the hot summer days.
Information on Kastraki beach, Naxos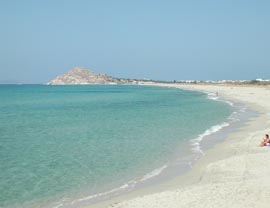 Kastraki is situated approximately 17km south of Naxos Town and right after Mikri Vigla. It is the longest beach of Naxos (approximately 5 km), with fine sand and crystal clear turquoise - blue waters that sometimes get rough due to the strong summer winds. In some parts of the beach, rocks form small natural coves, where nudists can enjoy the sea in privacy.
There are just a few accommodation facilities and taverns, making Kastraki an ideal resort for those who prefer to stay in a quiet place, do not mind driving for a few kilometres to get to the capital and wish to have access to some of the loveliest beaches on Naxos. Access to Kastraki is easy from the town by car and motorbike. One can access various parts of the beach easily and select the ideal spot for swimming, fishing, relaxing or walking. The road is asphalt, except from the last kilometre which is a dirt road of good condition.
Although Kastraki beach is quite remote, it gets busy enough during high season, but it still remains one of the most quiet beaches on Naxos.
Nearby tourist spots are Mikri Vigla beach and Alyko beach.
Distances from Summerland Holidays Hotel
Distance from nearest airport: 17km
Distance from Kastraki beach: 250m, other nearby beaches are: Mikri Vigla, Alyko
Distance from nearest port: 16km
Distance from nearest town centre: 16km
Distance from capital centre: 16km
Distance from Naxos Hospital: 16km
Distance from nearest pharmacy: 7km (in Vivlos)
Distance from Vivlos (Tripodes) village: 7km
Distance from nearest tavern: 200m, in Kastraki
Distance from nearest bus stop: within a few metres
Distance from nearest telephone booth: 300m
Distance from nearest super market: 250m