Find rooms in Greece
and explore the
Greek islands
. Book online your rooms, apartments, studios and villas
for all budgets
. Plan a cheap holiday in Greece in just 3 steps.

Villas in Greece
is a somewhat wide range of accommodation units and includes from basic detached and simply decorated houses to exotic luxury houses with all modern facilities and of course, prices vary accordingly.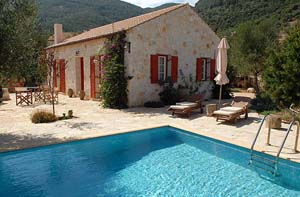 Villas are widely preferred by families as they give children more freedom and parents more time to relax and enjoy their holiday.
They usually carry area or people's names and in most cases, they are found in quiet areas offering some sort of privacy.
Although a villa is usually considered as an expensive holiday retreat, it is not always true. Villa rates vary depending on location, age of the house, facilities and number of bedrooms but they tend to be quite inexpensive as they can usually accommodate many people. So, each person may end up paying less than in an average hotel of the same area.
Another main factor that really reduces expenses when spending holidays in a villa is the fact that the house certainly includes a fully equipped kitchen. So the tenants do not need to go out in order to have a meal, no matter how small, as they can prepare it in the house. That contributes significantly to the reduction of expenses, especially in groups with small children.
In Vacation-Greece.com you will find a great selection of villas, cottages and farm houses:
and in many other Greek destinations.
Some tips:
When searching for a villa to spend your holidays, do not get misled by pompous villa names but read the description of the house and its facilities instead. That will give you a better idea on how much you should pay for the villa and what to expect when you get there.
Maid service of the villa is of great importance. In most cases, the house is cleaned every 2nd or 3rd day, but some owners offer a daily cleaning service.
When the villa has a swimming pool, make sure it is safe enough if you have small children. During holidays it is hard to keep a close eye on children 24 hours a day and accidents tend to happen. However, it is most crucial that, no matter how difficult, you should never leave children unattended, especially when a pool is around.
Privacy is of great importance when renting a villa. Make sure that the villa offers enough privacy so that you may not have any unpleasant surprises ...
[an error occurred while processing this directive]