Traditional Cottages in Greece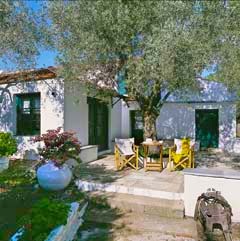 Book a traditional cottage for your stay in Greece
Plan your escape by organizing an "unusual" holiday package that guarantees to help you unwind, forget your everyday worries and travel you back in time. Explore a more traditional way to spend your holiday and let your days fill with new experiences.

In Greece, you will find many traditional homes suitable for holidays. Some of these are newly built but in a traditional architecture. However, many old homes and cottages have been recently renovated with their style (both interior and exterior) left intact.

Such cottages are being scattered all around the Greek territory, many of which are located in the Greek islands. Most of them are to be found in beautiful rural areas and may be somewhat isolated and, therefore, ideal for quiet and relaxing holidays.

So, if you want to get a glimpse of how people used to live in Greece, a few decades back, this is your chance. These excellent traditional holiday homes in Greece may be of a modern interior or fully traditional inside as well. You may choose to stay in a beautiful traditionally styled yet with all modern facilities home or relive the past all the way.

Whether you want to have all necessary amenities during your holidays or live far away from anything that reminds you of our modern world, rest assure that your holiday will be an experience to cherish for the years to come.