Find
accommodation in Greece
in our complete
Greece Travel Guide
. In Vacation-Greece.com you will find information on
Greek islands
and a list of
Greek hotels
, studios, apartments and villas
for all budgets
. In just two steps you can find hotel offers in Greece, see maps and photos of Greece, book flights, ferry tickets, discover
Athens
, book
Greece guided tours
and make on-line hotel reservations.
A quick tour in Kythira island, Greece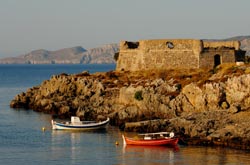 Kythira island (also found as Kythera or Kithira) is a part of the Ionian islands cluster, although located south of the Peloponnese district and quite far from the other Ionian islands. This beautiful, calm and still undiscovered by mass tourism island is among the most picturesque holiday retreats in Greece.
Its rich natural beauty and its lovely beaches gather nature lovers and families mostly. The most well known villages and resorts in Kythira are Milopotamos, Agia Pelagia, Avlemonas, Kaladi, Platia Ammos and, of course, Kythira, the homonymous capital.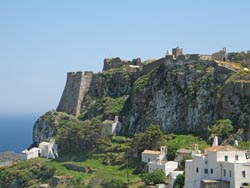 The capital of Kythira is located at the souther part of the island. There are not many hotels in Kythira (accommodation units in general), which is why travelers to the island are advised to book early enough.
The island produces excellent quality and very aromatic thyme honey (thymes thrive on the island) and attracts hare and rabbit hunters, during the months of September and October mostly.
[an error occurred while processing this directive]