Being developed only recently,
Sporades islands
offer a great variety of newly built accommodation units with all modern comforts. Visitors will enjoy the numerous apartments and villa son the 4 main Sporades islands. However, there are many hotels in Sporades as well.
Hotels in Sporades islands, Greece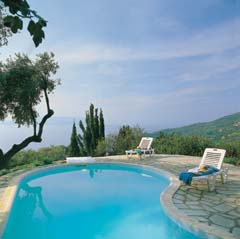 Sporades islands can be accessed via the ports of Volos, Agios Constantinos and Kymi (in Evia) or by charter flights to Skiathos from various countries in Europe.
Sporades islands are located east of Thessaly district, very close to Pelion and Evia Island. They include 11 islands only 9 of which are inhabited. The four major tourist destinations in Sporades are Alonissos, Skiathos, Skopelos and Skyros.
Accommodation in Sporades Islands
Most Sporades Islands have been included in the tourist maps of Greece only lately, except Skiathos island which has been famous for at least 3 decades. Most hotels are small and there is a great variety of villas and cottages to choose from.
Hotels, studios, apartments and villas in Sporades Islands
In Vacation-Greece you will find accommodation to choose from in the three major tourist Sporades Islands, Alonissos, Skiathos and Skopelos, along with an island description to help you through your search. Many of these Sporades accommodations are villas and country or seaside cottages, some of which offer exquisite sea view. Here is our current list of our accommodation:
Sporades accommodation list in Vacation-Greece
Alonissos island hotels
Skiathos island hotels
Skopelos island hotels
Rest assure that our directory of hotels will be increasing every year with top quality accommodations for their price.
[an error occurred while processing this directive]