Pserimos island
A quick tour in Pserimos island, Greece
Vacation and accommodation in Greece
is a
complete Travel Guide
for Greece. In Vacation-Greece you will find information on
Greek islands
and a list of hotels and villas in Dodecanese, studios and apartments
for all budgets
. Find hotel offers in Dodecanese, see maps and photos of Dodecanese, book flights, ferry tickets,
discover Dodecanese
, book
guided tours
and make hotel reservations.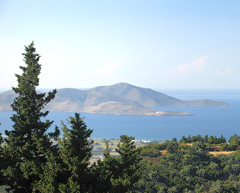 This tiny island lies to the southeast of Kalymnos. Its sparse population consists of sponge fishermen and their families. Its pretty beaches make it a wonderful place to relax.
Pserimos is becoming more and more popular each year, especially now that the nearby bigger islands become more and more hectic. However, it still remains a quaint holiday resort.