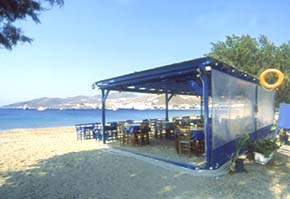 On the wonderful sandy beach of Avlomonas at Livadi, at a distance of 100 meters from the center, 500 meters from the port and 4,5 km from the capital Chora, the Isalos complex is open all year round.
Isalos, an A' class complex, consists of six traditionally furnished and fully equipped rooms, ideal for your holiday accommodation.
All units are air-conditioned, offer room service and provide daily maid service. They feature: private bathroom, refrigerator, television and a balcony with great sea view. A baby cot can be provided upon request as well.
From 8:00 to 02:00, at the reception desk of Isalos, the managers of the complex will be happy to provide you with information about the island, as well as offer the following services: Internet access, fax service, car rental and transfer service.
At Isalos complex you will find a very beautiful garden and facilities such as private parking space, a restaurant and a cafeteria (both indoors and outdoors) and a bar, while there is also access to the facilities for persons with disabilities. "Greek Nights" are ofetn organized at Isalos. Wedding planning is also provided.
At the hospitable hotel complex Isalos that is located on the extended sandy beach of the wonderful coastal settlement Livadi, apart from the private units for your accommodation, the owners, in order to make your stay even more pleasant, relaxing and enjoyable, have created the Isalos Restaurant - Cafe, which will definitely become your favourite hangout, for many hours during the day.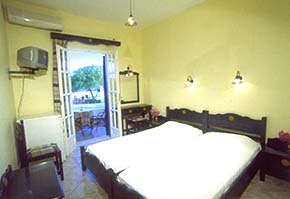 At the traditional tavern, you can taste the delicious dainties and experience unique flavors... traditional Greek meals and naturally... fresh fish!
Pleasant family atmosphere, excellent service and a unique setting. Relax, enjoy the view of the Aegean Sea and let the hotel's staff take care of you the way they know best! The hotel plans and organizes events.
At the interior or the exterior areas of Isalos Cafe, which are specially modulated and furnished for your best comfort, you will have the opportunity to sit comfortably, relax, have a chat, listen to music, admire the wonderful seaside scenery that outspreads in front of the complex and enjoy the beverage of your choice.
Isalos is an integrated complex that will definitely satisfy you with its supreme accommodation, its beautiful cafe and its excellent restaurant.